This seems to be a year of clean-up/throw-away for me, as I have mentioned in other blog posts. I am also aiming to consolidate the social media accounts I have created over the years.
I began this website four years ago, in March 2014. It took over from the Vlog (video blog) I began in March 2006. That's 12 years of blogging, never really under my own name.
I have already mentioned creating separate websites for music and writing due to my desire to separate the two spheres of activity and shield my family from dark posts. I also sought to separate my teaching activity from what was then a private writing activity. Somehow one thing led to another, and in those 12 years I accumulated some 20-30 social media accounts.
From my current vantage point, I would say that over the years I felt I needed different accounts to accommodate my various alter egos. I also felt that my disparate posts addressed such totally different readers that I didn't want to hit anyone over the head with dark posts. In addition, I have repeatedly been cautioned, over the years, not to present traumatic content without warning, as this can re-traumatize sensitive readers.
In the ensuing years I have come to recognize that the harm potential is non-existent, and having so many separate accounts serves to further my dissociation. Hence, launching my consolidation effort this year.
At present, I have four Twitter accounts, and I have decided to keep all four, although my intention is to keep only the last named account as active. (There is some overlap.)
Account 1 is @losangelino and I began it mid-2009. I used it for communicating about issues related to my teaching at the time (primarily Design University Karlsruhe).
Account 2 is @grab_it, begun shortly thereafter. I found I wanted somewhere to grab and lance dark and/or poetic thoughts, and it served that purpose.
Account 3 is @DIDJuni, begun about the same time as this website. There I posted mainly tweets about my dissociation, about dissociative identity disorder (DID) in general. I often posted there when I was very depressed.
Account 4 was @junishimata, also created about 4 years ago, used primarily for thoughts about 'becoming a writer'. I have changed its name to my real self: @joyceshintani. I will no longer keep posts from this blog connected to Twitter in order to avoid duplication.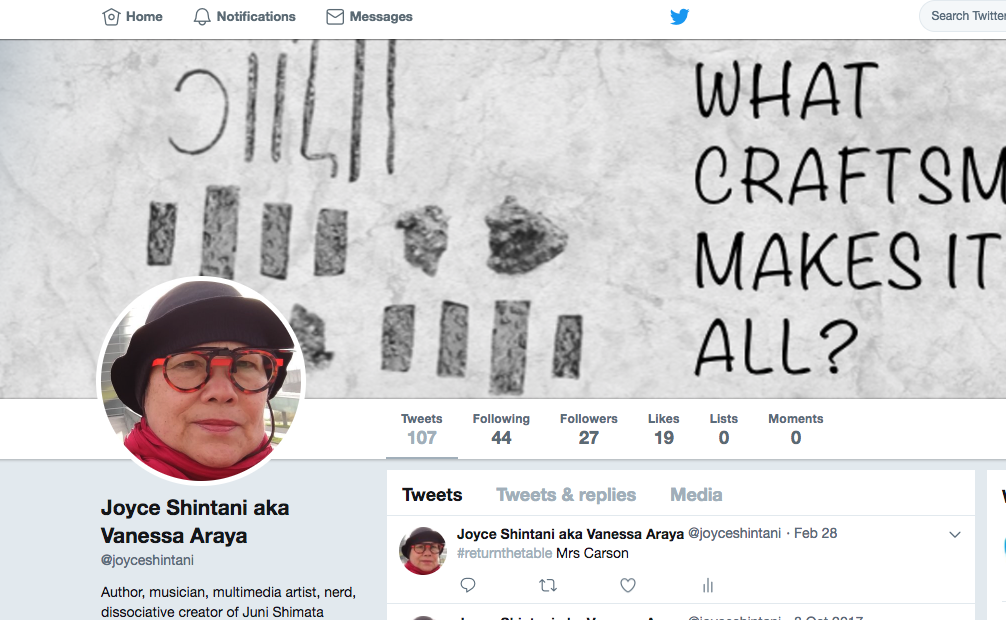 Regarding Instagram, I have already deleted two accounts and renamed the remaining account from 'junishimata' to 'joyce_juni'.
And then I will attack Facebook... (done on mar 18)